Personalized Card Alterations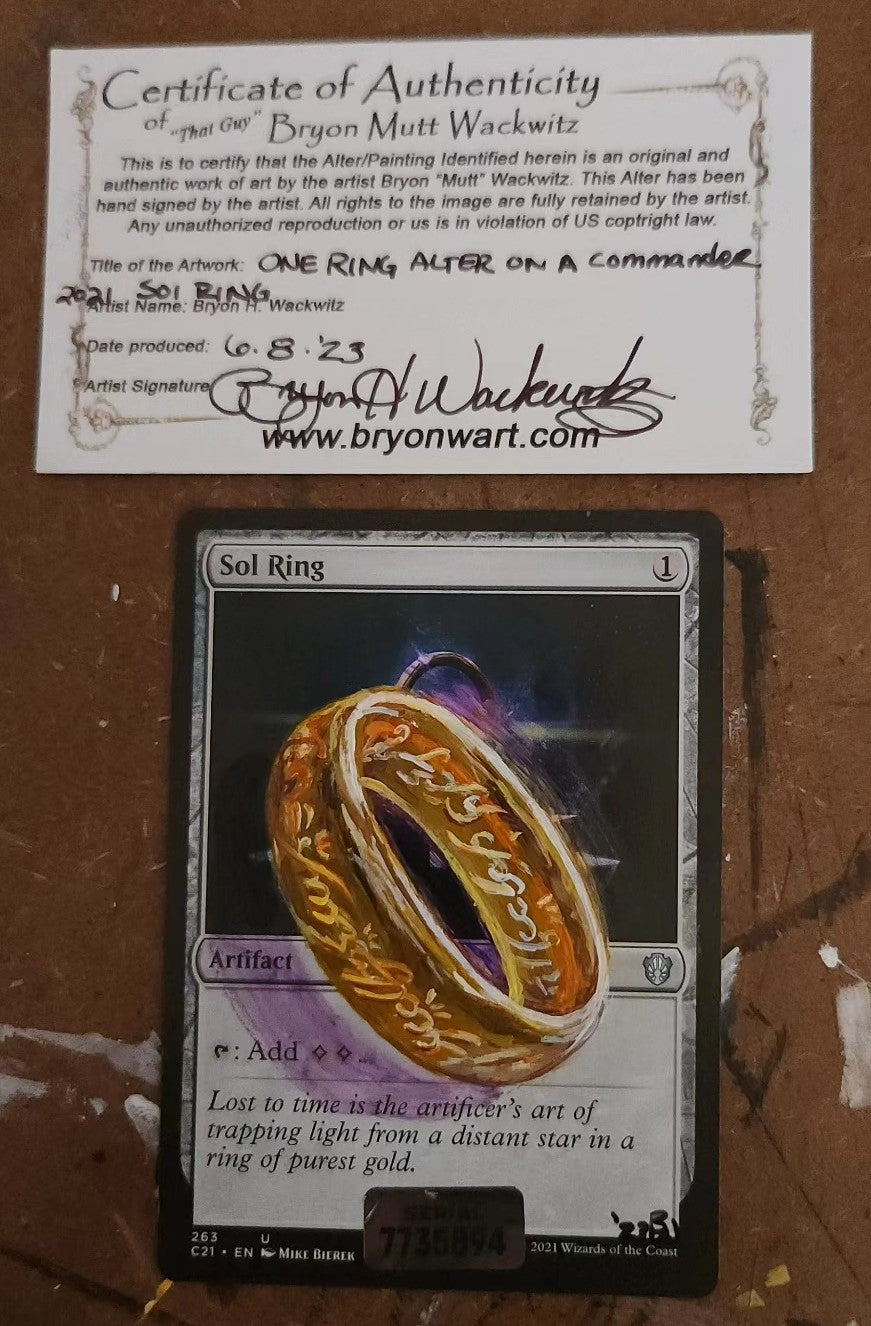 Elevate Your Cards with Unique Artwork


Welcome to our Card Altering Service, where we turn ordinary cards into extraordinary pieces of art!
A card alter is a custom modification made to a collectible card's original artwork. With artistic mastery and attention to detail, we enhance your cards, giving them a personalized touch that sets them apart from the rest.

Get your Card Altered
Frequently asked questions
How do you do your commissions and are they tournament legal?

How I do my alters.

Every cards I do is carefully prepared before hand and after painted I use a clear lacquer to protect the art from scratching and to ensure its permanence. I paint the art using only top quality acrylic paints. The process is time consuming, requires a lot of patience and concentration.

What paints do you use?

As of right now I use Goldens and Liquitex colors. I highly recommend Golden Open acrylics though, as they have a very extended drying time, so you can work them like oil, however they are somewhat transparent and slightly gummy to work with if your doing thin coats.

Are your cards Durable/ Will they last?

Altered Art cards have excellent durability. The acrylic is a flexible plastic polymer and after they are finished I use a clear laquear varnish to seal the card. This protects the card and brings out the colors in the paint much like a Kamar varnish on a oil painting but keeps the cards luster.

I recommend keeping all cards in a sleeve to help protect them and store them.

Are They tournaments legal?

"Artistic modifications are acceptable in sanctioned tournaments, provided that the modifications do not make the card art unrecognizable, contain substantial strategic advice, or contain offensive images. Artistic modifications also may not obstruct or change the mana cost or name of the card." From the Stack Exchange.

Aside from this I would ask your judge.

Do you authenticate your art?

YES I DO!

I use a foil certificate of authenticity numbered sticker that I place on the work, the twin of the certificate I put on the certificate of authenticity card I include with the alter. You will always know if i did the art.

How do I Get one of your Alters?

See the button under the picture? just click it, or...you can email me @ bhwackwitz@gmail.com or you can contact me through any of my social media accounts. If your in the EU you can contact my agent there Andrae Brune, I will add a link later.

Do I send you the cards ?

You can send me the cards, that is the fastest way, or I can get them. I use TCG Player to buy the cards, and If I have to provide them the cost is the art charge plus the card cost plus shipping cost. Also, I do not cover the post to ship them to you. You, my good friend, get to cover that. That will get calculated in the total, though its usually not much, usually between $5-$7.50 in the US.

DO NOT just send me your cards without first contacting me either through here, my social media or email. I have my reasons for this...so please do not 😊

How long does it take?

I am in high demand for my alters, and I also am doing other art commissions, conventions, etc, so once I get your alter i put you on a list, and Ill give your a rough Idea

What are your prices?

Prices vary depending on the complexity of what you want, weather you want me to provide the card and the shipment cost.

I have a sample gallery of cards I've altered below that will give you a sample of what was done and for how much, but on average my prices are:

Small image box alter: $80-$100
A medium alter on the card: $150-$200
A full alter, where I alter the entire card or pant the back of a artist proof: $250-$350

(Prices are art only and do not include the card)

I do not take payment until the Alter is finished. Once I finish them, I will contact you, show you pictures and then we can do payment. Once I receive the payment I ship out your alter/alters.

What about Refunds?

No refunds, all sales are final. Its' a original art request.
Custom Altered Cards
The following are samples of Alters I've done along with sample prices. All Alters are painted using acrylic.